TOP 10 THINGS TO DO AND SEE IN VIETNAM
Our travel consultants have selected 10 things to do and to see that you should carry out during your Vietnam vacations.
1. Take a 2 Days 1 Night on Halong Bay Cruise
While most travelers visit Halong Bay as a day trip from Hanoi, it is most worth treating Vietnam's attraction as a completely special destination in order to experience more of this beautiful natural marvel. Trip 1 nights 2 days on Halong cruise allows passengers discover the secrets of Halong Bay, from hidden beaches, floating fishing villages to sunken grottoes.
2. Wander the canals of Hoi An Ancient Town
Hoian was a most popular economic sea port in South East Asia during the 17th centuries, the ancient town of Hoi An is a museum highlighting a unique blend of Western and Eastern architecture. With pagodas, Chinese temples, wooden shop houses, brightly colored French colonial houses, old canals, and a Japanese bridge, Hoi An is successful in restoring and conserving its enchanting beginnings. In the evening, the riverside is lit up by lanterns, making it has amazing scenes and picturesque spot.
3. Trekking in North Vietnam
North Vietnam has some of the most dramatic and exquisite scenery in the south-east asia. The towering mountain peaks, lush valleys, deep gorges, long rivers, and terraced rice fields combine to form a picture of rugged, natural beauty. Sightseeing in North Vietnam is an excellent way to experience the ethnic minority cultures and festivals unique to the region.
4. Have a Pho on the street
Foods in Vietnam are considered one of the healthiest cuisines in the world due to its use of fresh ingredients like fresh vegetables and a little usage of dairy and oil. One of the most well-known dishes in whole Vietnam is Pho/Phở, a noodle soup consisting of broth, rice noodles, herbs, and primarily chicken or beef. Originally from North Vietnam, the dish spread throughout whole country and has remained a staple as breakfast meal in Vietnam. Phở stands can be found in any city any locations in Vietnam, from big restaurant to a small ones with little old ladies selling it on the street.
5. Sled down the Sand Dunes of Mui Ne
All visitors are very surprised with the large white sand and red sand dunes located in Mui Ne, Phan Thiet, Vietnam. It is seemed be in the Sahara desert, but it is more special that it has very beautiful beach beside. Popular activities in Muine include driving an ATV or skating down the dunes.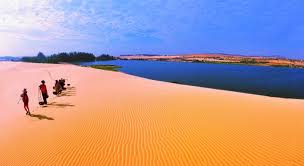 6. Crawl through the Cu Chi Tunnels
The Cu Chi Tunnels, a popular daily trip from Ho Chi Minh City, is a very great way for travelers to have experience about glimpse of the underground life of soldiers during the south Vietnam war period. There are more than 120 km of tunnels, the site is a popular attraction for foreign visitors who wish to follow the routes of the underground and explore it.
7. Explore the Hue Temple Complex and Tombs of the Emperors
Hue, the ancient imperial capital has much to offer travelers interested in the history of Vietnam. With the Perfume River winding its way through important landmarks, such as the Imperial City, Capital City, the Inner City, Forbidden Purple City, Hue holds natural and historical beauty. Most important, the tombs of the Emperors can be found here, dating from the late of 1800s to early of 1900s. The most common way to visit the tombs is by taking a day cruise along the Perfume River.
8. Discover the Floating Villages of the Mekong River DeltaThe Mekong River Delta in Southern of Vietnam is home of cultural and natural excursions for tourists. The serene beauty of the delta mekong holds many local ways of life, and this could be seen very clearly in the markets scattered and floating villages throughout this area. The inhabitants have passed down traditions through many generations, and foreigners can be here to experience a way of local life that is very different from what foreigners are normally used to. Besides cultural excursions, the Mekong River offers many chances to discover the natural landscapes, such as mangrove tree mazes via sampans (by a wooden boat).
9. Taste Coffee nearby Hoan Kiem Lake
Coffee culture is as deep and rich as just about everything else in Vietnam. The Central Highlands proved an large place to grow coffee, and it soon became a major export of Vietnam. Nowadays, Vietnam is the second largest producer of coffee in the world, and the streets are full of coffee shops, ranging from the traditional, romantic hole-in-the-wall cafés with plastic stools to hip, modern coffeehouses rivaling what can be found in Western countries. An great way to watch the world pass by is to visit one of small shops in abundance by Hoan Kiem Lake in Hanoi and order a Nâu đá cup (iced coffee with condensed milk). You won't be unforgettable its taste!
10. Ride a motobike through Hanoi's Famous Old Quarter
Although Hanoi is a cosmopolitan city, there still exists an antique quarter within the heart of the city, known as the Old Quarter. The Old Quarter, made up of 70 streets dealing in specializations from "Salt Street" to "Bamboo Street", began as an alligator and snake-infested swamp, and then gradually was made into a group of small stilt-houses by Chinese administrators. Originally called "36 Old Streets" due to 36 guild locations in the 15th century, the Old Quarter is a unique classical feature of Hanoi that can be seen very easily by foot. A traditional and romantic way to discover the Old Quarter is by Rickshaw, a three-wheeled cart pedaled by a local Hanoian.